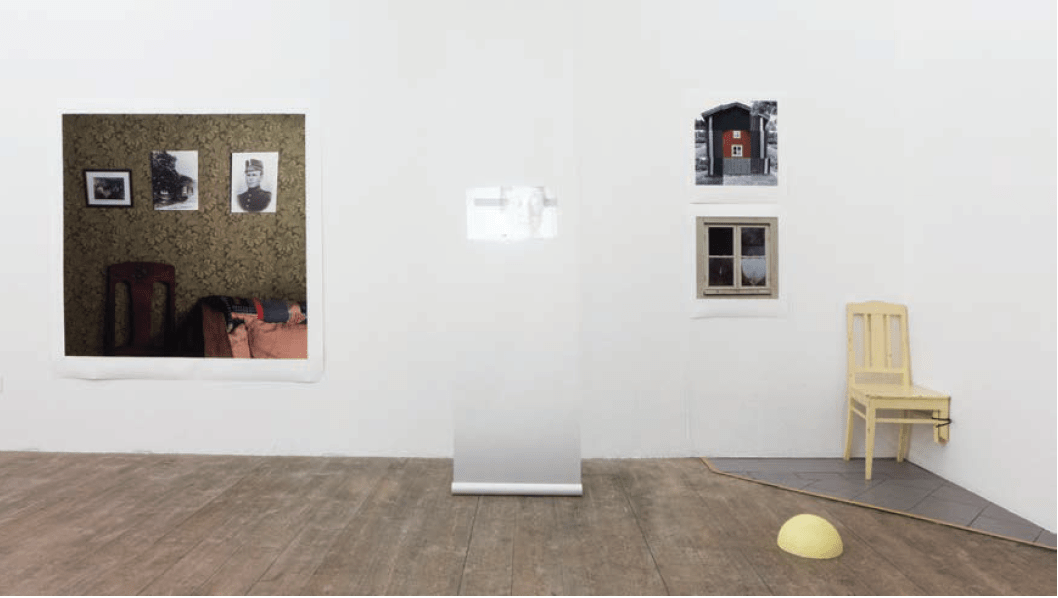 I mitten av 1800-talet fanns det cirka 100 000 soldattorp i Sverige som var avsedda för soldater vid militärtjänstens slut.
I ett av dessa, Idemåla soldattorp, bodde mormorsmor med sin familj. Torpet är idag bevarat som ett lokalt historiemuseum där släktens personliga ägodelar berättar en historia om ett Sverige i en brytpunkt strax innan jordbruksbefolkningen flyttade från landsbygden och blev en del av en ny arbetarklass.
Jag lånar mina ögon åt min mormorsmor är en installation där konstnären låter sin släkting blicka över det nya Sverige, ett Sverige, som då måste ha varit svårt att föreställa sig. Vår kulturs berättelser nedärvs i vårt kollektiva undermedvetna, men blir fragmenterade och lösryckta ur sin kontext. De formar nya betydelser, och skapar tillstånd som är nära förestående.
---
I lend my eyes to my grandmother's mother, Christel Lundberg, mixed media, 2017
By the middle of the 19th Century there were about 100,000 "soldier torps" in Sweden, small farms intended for soldiers at the end of their military service.
In one of these soldier torps, Idemåla soldatorp, grandmother's mother lived with her family. Today, this soldier torp is preserved as a local history museum, where relatives personal possessions tell us about a Sweden at a breakpoint just before the rural population moved from the countryside and became part of a new working class.
I lend my eyes until my grandmother's mother is an installation where the artist let her relative behold the new Sweden that she might not even imagine. The stories of our culture are inherited in our collective subconsciousness, when yanked out of context shape new meanings in a state that is imminent.